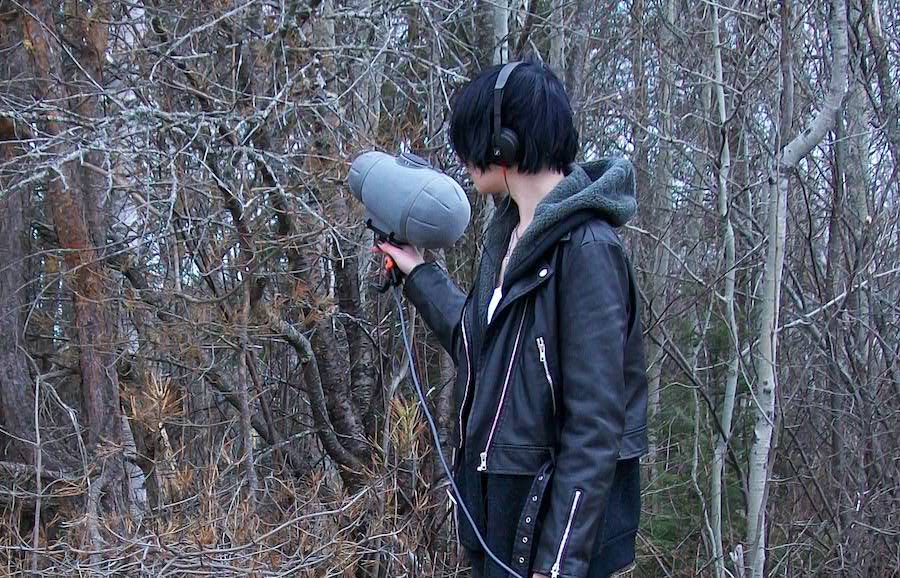 Soundscape Intensive Weekend
April 29 to May 1, 2022
Warbler's Roost, 3785D Eagle Lake Road, South River
$283 (with 2 nights accommodation)
$170 (with no accommodation)
Prices include HST.
Advanced Registration Required.
Warbler's Roost is proud to host the return of New Adventures in Sound Art's Soundscape Intensive Weekend. Highlights include an artist talk and concert by Hector Centeno, group contributions to a "dawn chorus" multi-speaker soundscape installation, and a combination of taught and hands-on instruction from Hector Centeno and NAISA Artistic Director Darren Copeland. This edition will have a special focus on Ambisonic recording and production techniques.
Join us for our first Halloween event at Warbler's Roost!
It's a Hallo-Scream!
October 31, 2016 at 5pm – 8pm
Warbler's Roost Country Inn
3785D Eagle Lake Road, South River, ON


Walk through our never-before-seen haunted section of the Inn, make your voice sound sccccaaaaarrrrryyyy, make a mural, decorate your own cupcake (and eat it too!), make your own goblin, and let off some steam (after all that work!) in the upstairs halloween room.
ART EXHIBITIONS & CONCERT SUMMER 2016
CONCERT
HIDDEN ROOTS COLLECTIVE
July 28, at 8pm, $15
Event Space at Warbler's Roost Country Inn
3785D Eagle Lake Road, South River, ON


From humble beginnings as a singer-songwriter circle, four Northern Ontario musicians are on a journey together driven by a musical connection that refuses to be ignored. The Hidden Roots Collective includes Rose-Erin Stokes, Brigitte Lebel, Annie Sumi, Holly Cunningham.
With swirling harmonies as tall as the pines of their hometown, Hidden Roots Collective create an immersive listening experience while reinforcing each others unique vocal strengths. Touching on stories of love and self-discovery, their debut album Come Up, Honey celebrates four storylines intertwined through songs rooted in familiar blues and airy folk sensibilities.
ART EXHIBITIONS
Site Specific Installations at Warbler's Roost
by Yves Daoust, BARFFF Enterprises, Christine Charette and Darren Copeland
presented by New Adventures in Sound Art www.naisa.ca
July 29, 30 & 31, 10-4 Friday and Saturday and noon-4 on Sunday
In the forest surrounding Warbler's Roost Country Inn
3785D Eagle Lake Road, South River, ON

This presentation coincides with the Almaguin Arts Council's 2016 Studio Tour
Home by Christine Charette
Christine Charette's sound art installation "Home" wanders through forest metaphors inspired by "women's work" in sight and sound. In scope are the co-existence of the object and the domestic, the parallels of mending in the home and in the environment, and what that can look and sound like. Charette's installation is meant to unwind you and hopefully carry you to places that move you in your own relationship to what "Home" has meant or can mean to you.
Empreintes
by Yves Daoust
The installation consists of an 8-channel piece played in the forest. The piece consists of a long loop of about 36 minutes, the end merging perfectly with the beginning, without any interruption. The structure makes it very difficult, even in extended listening, to perceive repetition, all the sound elements being repeated two or three times, but in different contexts and vertical organizations. In compliance with the natural environment in which the installation takes place, I mainly used the medium and high registers, and levels were adjusted so that the dissemination area is restricted. Some bass sounds, evoking menace of nature, appear sometimes.
The sound materials are in immediate relationship with the environment: wood (beaten, broken, rubbed), leaves, the wind whistling, rain, rocks, some real sounds of animals (frogs, birds), and naturalists electronic sounds evoking the forest bestiary. I worked according to my usual way: classification of sounds by typo-morphological categories, but especially expressive energies and potentialities. The structure consists of a juxtaposition of moments in which, for each of them, a specific material is in forefront.
The eight speakers are above the heads of listeners. The spatial distribution of sounds is done according to the following principles:
1) a specific category of sounds invading all the space;
2) opposition of the different materials, spreaded in different area of the diffusion system, circular movements, echoes…
Sponsored by the the René Derouin Foundation, for the International Symposium of Art in Situ, Val-David, Québec
WR – NETTT – wilderness and technology
by BARFFF Enterprises
Readings from the local environment using a triangle mesh interface. Visitors will have a chance to record a simple composition which will serve as a document of the combined living presence of the environment, the participants, and myself. Some of the results will be presented as animations on my website (www.BARFFF.com/wr-nettt-technology-and-wilderness/). This is part of a continuing investigation into the human psyche – consciousness, using artwork as the medium. The forest provides networks rich beyond comprehension. The tools of scientific computing offer an opportunity to discern some of the information, messages, and forms that are carried along them.
Hidden Sounds
by Darren Copeland
This is the second part in my piece Hidden Sounds which is a series of installations that uncover sounds not audible to the human ear. The work uses unconventional methods for capturing ultrasound, material-born sound, and electromagetic radio waves. Discarded materials that have interesting sound properties are collected from my home and nearby environs and then incorporated into the design of the sound installation. Hidden Sounds is generously supported by the Ontario Arts Council's Northern Arts program.